What happened?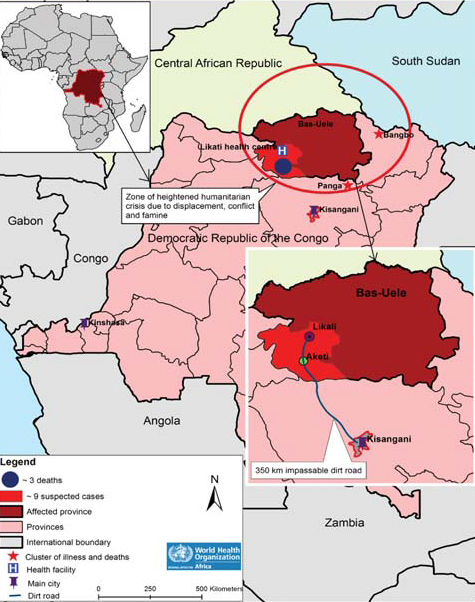 On 12 May 2017, the World Health Organization (WHO) declared that new Ebola cases were confirmed in the north of the Democratic Republic of Congo.
Since 22 April, suspected symptoms have been identified in at least 9 people from the Likati district (Bas-Uele province, near the border with the Central African Republic). The first patient was a 39-year-old man who suffered from vomiting, bleeding and diarrhoea. He died on arrival at the hospital. The taxi driver who took him there and a carer both became sick and subsequently died. Their blood samples tested positive to the Ebola virus. Six people are still in hospital, while 17 suspected cases are further investigated. Furthermore, 125 people who had contact with these patients are under observation.
What now?
On 12 May, a team of investigators, led by the Congolese Ministry of Health and supported by the WHO, went to the affected region. Its remoteness greatly complicates access for aid workers and equipment. At the same time, this factor, contrary to urban areas, impedes a rapid spread of the virus.
The DRC is familiar with such small-scale epidemics in remote areas. The country has been hit eight times since 1976. The last outbreak dates from 2014 when West Africa fell victim to a major epidemic. Sixty-six people in RDC became infected, 49 of them died. In recent decades Congolese health authorities have gained a lot of expertise in successfully combating such outbreaks.
Packages with protective clothing for health workers have been dispatched to Kisangani. Health authorities are investigating whether to use the promising r-VSV vaccine to treat those who have been in contact with contaminated people. Various aid organizations are ready to assist Congo where necessary.
Is there a risk for Belgium?
As this is a small outbreak in a very remote area, it seems unlikely that infected patients could make their way to Belgium unnoticed.
However, we closely monitor the epidemic's progress. We treat every sick traveller from the tropics with the necessary caution and exercise good hygienic practice. If a patient shows signs of viral haemorrhagic fever, he/she will be put in quarantine in one of the three reference hospitals (St. Pierre hospital Brussels, UZ Leuven or UZ Antwerp).
The WHO does currently not impose restrictions on the traffic of people and goods to and from the DRC.
For more information, please consult the WHO webpage.